Headline News
January 13 - 15, 2023
Ritz-Carlton, New Orleans
"If it's January, It's ASPNR"
What a success!! A big thanks to Program Chair Dr. Susan Palasis, the 2022 Program Committee, and ASPNR Board for putting on such an excellent in-person meeting. Education, collaboration, and amazing social events were the pillars of this wonderful event and experience.
The 2.5-day event was extremely well attended with over 350 registrants from all over the world including the United States, Canada, Europe, Brazil, Ethiopia, the United Kingdom, and Australia. Many new concepts were trialed at ASPNR23 including working groups to discuss collaborative projects centered around gene therapy, ASL, and pediatric stroke. Fireside chats with experts in their field were a big hit with much discussion on the hot topics in Pediatric Neuroradiology.
We hope you noticed the number of amazing medical students and trainees that attended the meeting. Many of these individuals were supported by generous contributions from organizations and society members. Our future was certainly on display at the first ASPNR young professional event.
Also, new this year was the Advanced Processing Workshop. This was a tremendous achievement with a small group learning about BOLD imaging and practicing the processing of these studies on different platforms.
All this is in addition to the format that has proven wildly successful over the years. We heard from legendary figures in the Pediatric Neuroradiology world (Dr. Anne Osborn and Dr. Thomas Naidich), renowned international speakers as well as up and coming stars. The Zoltan Patay memorial lecture by Tina Young Poussaint was inspiring. Zoltan will always be remembered for his contributions to the society and the field of Pediatric Neuroradiology immense. The breadth of topics covered was astonishing, which included tumor imaging, neurocutaneous disorders, endocrine, fetal/neonatal, vascular disorders, new technology, practice changes, head and neck, and metabolic disease(WOW!!). The oral scientific presentations and scientific/educational posters were first class and immediately available on the meeting app.
Back ag
ain this year, Rapid Fire Pediatric Neuroradiology cases. The audience was able to weigh in with their responses to unknown cases at the end of each session. Fun learning is what it is all about! More fun learning was happening in the Game Show with "Name that Syndrome". David Mirsky "The host" was perfect and was able to handle team Neuron and Myelin without a problem, of course, helped out by the venerable "Judge" (a robe to boot). So nice to include the audience as well with The Myelin team capturing the prize.
We so appreciate the hard work of the meeting moderators that were entailed with the unenviable task of herding the cats (speakers) and generating insightful discussion.
It would not be an ASPNR meeting without a tremendous social program. From the reception to the Gala, we talked, laughed, and danced. The second line to the Gala was second to none with jazz, stilts, and large heads leading us to the House of Blues. A party to celebrate our friends, colleagues, and society is a perfect way to celebrate connection.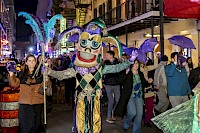 Everyday should be like a day at an ASPNR meeting!! Our meetings are different and as one person tweeted "ASPNR23 is like a family reunion", which we truly believe.
Of course, we need to thank our Corporate Partners for their generous support. Without the help and support of our partners, we could not do what we do!! Such a wonderful group of people who are dedicated to improving imaging in children.
We would be reticent not to thank our new society management company, HollandParlette and the tireless work of Nicole Brandt, Zenia Spear, and Kortney Incorvaia. They are our new society partners and were instrumental in the success of this meeting.
ASPNR San Diego will be here before you know it, so start planning now!!
Sincerely,
The ASPNR