Headline News
Arastoo Vossough, MD
Professional Title: Neuroradiologist – Larissa T. Bilaniuk Endowed Chair
Locale: Children's Hospital of Philadelphia, Philadelphia, PA
Fellowship: Neuroradiology – Massachusetts General Hospital
ASPNR Member since 2006
ASPNR: What attracted you to pediatric neuroradiology? Has your background in Applied Linguistics informed your career in a unique way?
Arastoo Vossough: I was always fascinated by complex syndromes and rare disorders, the brain, and technology. These may have subconsciously converged on pediatric neuroradiology. My background in linguistics, while not directly relevant, widened my horizons and taught me the basics of inquiry and aspects of how the brain works.
ASPNR: Do you have a colleague or mentor who inspired you in your career?
AV: Apart from my late father who inspired me towards continuous learning and an academic career, I have three people to which I am most grateful. First is Mr. Ted Barlag, my 5th grade science teacher who instilled the love of science, second Dr. Larissa Bilaniuk who taught me personal dedication and the love of teaching, and finally Dr. Pam Schaefer who showed me what it means to be a great mentor and all-around amazing neuroradiologist.
ASPNR: What is your favorite part of your job?
AV: Participating in multidisciplinary patient care conferences, using MR physics to change, optimize, and troubleshoot imaging protocols on the scanners, and the great joy of teaching and interacting with truly interested fellows on a day-to-day basis.
ASPNR: What words of wisdom would you pass on to your junior attending self?
AV: Don't be as distracted with doing too many things at the same time and limit your focus and area of interest. Increase your interaction with other specialties in your institution in order to have a more integrated role in the clinical care of patients.
ASPNR: What challenges or uncertainties do you see on the horizon for pediatric neuroradiology?
AV: There is currently a shortage of full-time pediatric neuroradiologists even though it is small field. Some departments struggle with coverage needs and have to cross-cover other radiology specialties. A secondary impact is that much of pediatric neuroimaging research is not being done by pediatric neuroradiologists.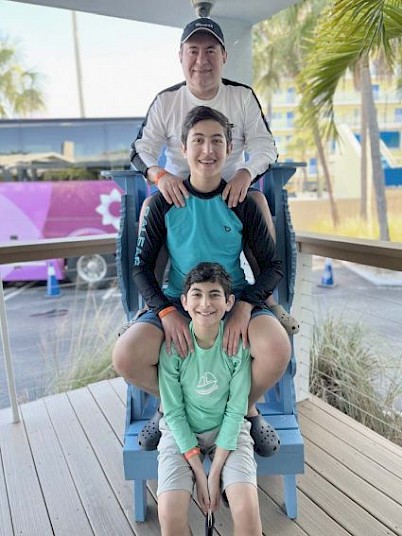 ASPNR: What exciting future advances in our field do you foresee? Are there any you would recommend to our young colleagues as they embark on their careers?
AV: There are tremendous advances in molecular and genetic diagnoses and treatments. The gradual impact of advances of computational applications in image reconstruction, analysis, and detection over the next few years will impact our workflows and how we practice. We need to be aware of these changes and judiciously, not hastily, incorporate them into our work. Some of these computational advances may be somewhat overstated and do not fulfill their initial promises, as we have learned in the past couple of years.
ASPNR: What was your childhood dream job?
AV: My childhood dream jobs changed very frequently as too many things continued to tap my interest. The downside was that it did not allow me to focus on a set path, but I don't necessarily regret it. Perhaps the longest stretch was that I wanted to be an elementary particle physicist. That changed to wanting to be an Olympic style wrestler. I became neither.
ASPNR: What is one thing people would be surprised to know about you?
AV: I worked as a general practitioner and infectious diseases/TB control officer in a very poor rural area for a number of years, and while doing so, assembled a full x-ray machine and film developer from individual parts in order to take chest x-rays. Lots of mistakes and many unsuccessful x-rays taken on myself.
ASPNR: Will you be attending the 6th ASPNR meeting in San Diego in 2024?
AV: Absolutely. One of my favorite educational conferences. It's amazing to see what has become of this meeting in such a short time since being involved with the first one, thanks to the organizers, speakers and attendees. Looking forward to seeing friends again in 2024!